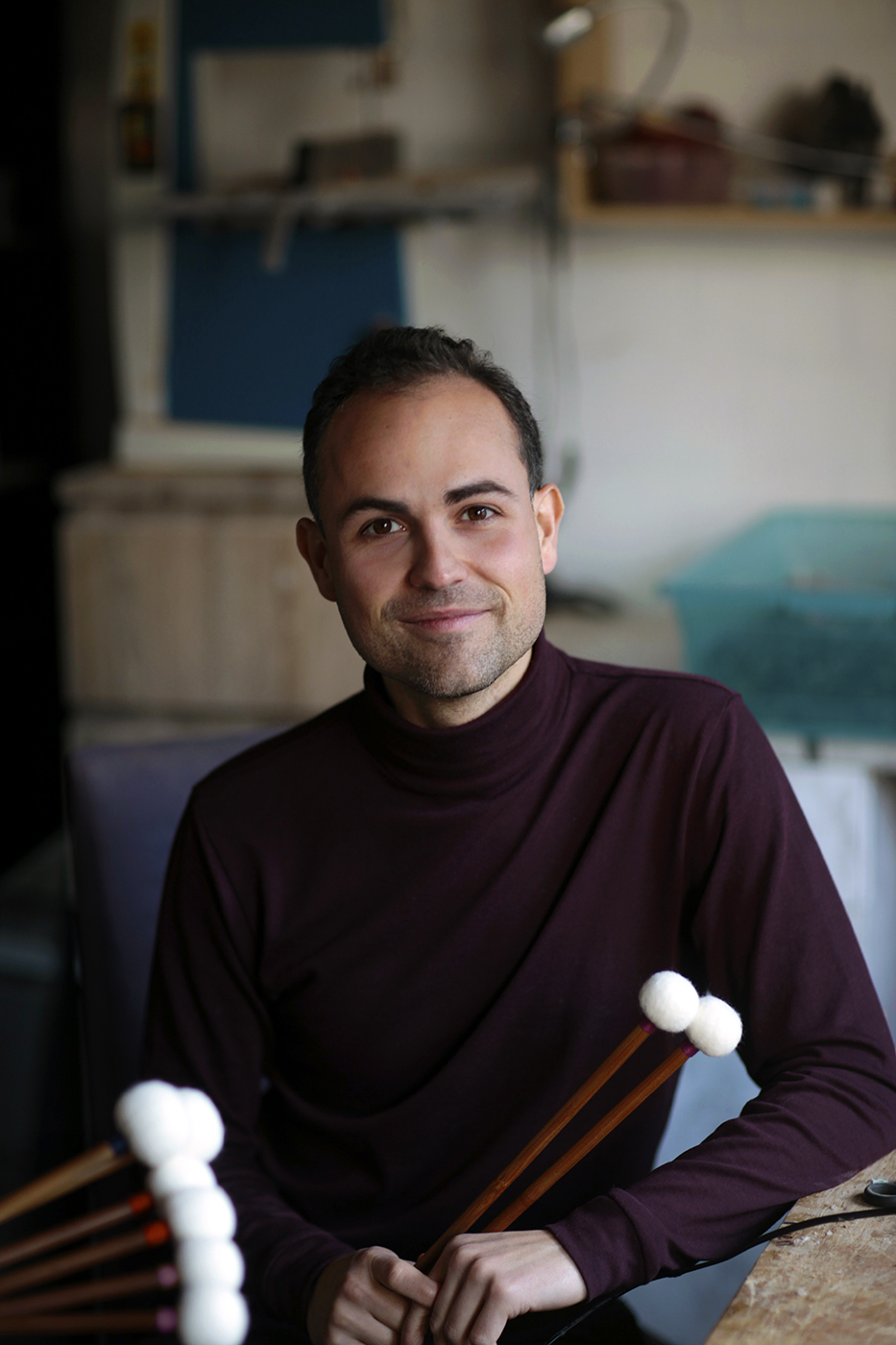 Born in Valencia in 1988, Javier Azanza Ribes is one of the most talented and promising timpani players of his generation. He is active as a musician and teacher giving concerts and masterclasses across Europe. Javier obtained his bachelor's degree at universities of Valencia and Castellon. During this time he entered the Gustav Mahler Jugendorchester. After finishing his studies in Spain, he went on to study Timpani and Orchestra Percussion at the Hochschule für Musik und Theater München with prof. Raymond Curfs, prof. Peter Sadlo and prof. Franz Bach.
In September 2012, he joined the Academy of Berliner Philharmoniker being taught by prof. Franz Schindlbeck and Rainer Seegers in addition to playing concerts and making tours with the Berlin Philharmonic. His professional life as a timpani player started in August 2015, when he got a Timpani Solo position in the Basque Country Orchestra, Spain. In the year 2016, he was appointed a Timpani professor in Musikene – Centro Superior de Música del País Vasco.
In 2018, he was appointed a solo timpani player in the Orchestre de Paris.
He has played with many orchestras, like the Berlin Philharmonic, the Royal Concertgebouw Orchestra, the NDR Elbphilharmonie Orchester, Staatsoper Munich, the Rotterdam Philharmonic Orchestra among other orchestras.
Javier Azanza Ribes Series
A lo largo de mi vida he conocido muchos profesores diferentes, orquestas diferentes, salas diferentes, y todo ello me ha influido. Es por eso que he querido mezclar lo mejor de todo y conseguir una serie de baquetas que se adapte a mis deseos y mis necesidades.
Gracias al excelente trabajo de Picarde y a nuestra experiencia personal hemos podido transformar los sonidos que tenemos en la mente y las sensaciones que queremos tener en nuestras manos en unos pocos pares de baquetas con inmensas posibilidades.
Cada par ha sido diseñado buscando siempre el equilibrio perfecto entre proyección en el hall, profundidad en el sonido, claridad en el ataque y comodidad en la mano.
De este modo hemos podido crear una serie de baquetas que son fácilmente entendible en las grandes salas de concierto pero siempre conservando un sonido redondo.
Estas baquetas en general son ligeras porque los bambúes no son muy pesados (entre 20 y 23gr) ni muy gruesos (10mm y 10,3mm) para tener una sensación muy agradable siempre en la mano. Los interiores son muy diferentes en todas ellas para poder abarcar el máximo de colores y dinámicas. El rango dinámico es muy grande porque debido al magnífico balance y comodidad en la mano cada uno puede controlar a su gusto la sonoridad y así podemos tocar desde dinámicas suaves con muchos colores diferentes hasta fortísimos cálidos o más directos.
Hace relativamente poco que deje de ser estudiante y es por eso que he pensado mucho en ello para poder hacer una serie que sea útil para ellos y que puedan aprovechar todos los pares tanto para hacer audiciones como para estudiar o para la vida profesional.
Es por eso que debido a la gran paleta de colores y posibilidades que ofrecen estas baquetas son  ideales tanto para profesionales como para estudiantes.
– Javier Azanza Ribes
Throughout my life, I have met many different teachers, played with different orchestras in different concert halls, and all of this has influenced me. That is why I wanted to mix the best of everything and get a series of timpani sticks that make my needs and wishes come true.
Thanks to Picarde's excellent work and our personal experience, we have been able to transform the sounds we have in our minds and the sensations we want to have in our hands into several pairs of timpani sticks with immense possibilities.
Each pair of sticks has been designed always looking for the perfect balance between the projection in the hall, depth of the sound, clarity in the attack and comfort in the hand.
In this way, we have been able to create a series of timpani sticks that are easily audible in large concert halls while keeping the round sound.
These timpani sticks are generally light because the bamboo is neither too heavy (between 20 and 23gr) nor too thick (10mm and 10.3mm) and they always have a very pleasant feeling in the hand. The insides of the heads are very different in each pair to obtain the maximum of colours and dynamics. The dynamic range is very large due to the magnificent balance and comfort in the hand, everyone can control the sound to their taste and thus, we can play from soft dynamics with many different colours to very loud dynamics with warm colour and direct sound.
I stopped being a student not long ago and I have been thinking a lot about making a series that would be useful for timpani players who could use all the pairs for auditions, studying and as well as for professional use.
Because of a wide palette of colours and possibilities these timpani sticks offer, they are ideal for both professionals and students.
– Javier Azanza Ribes