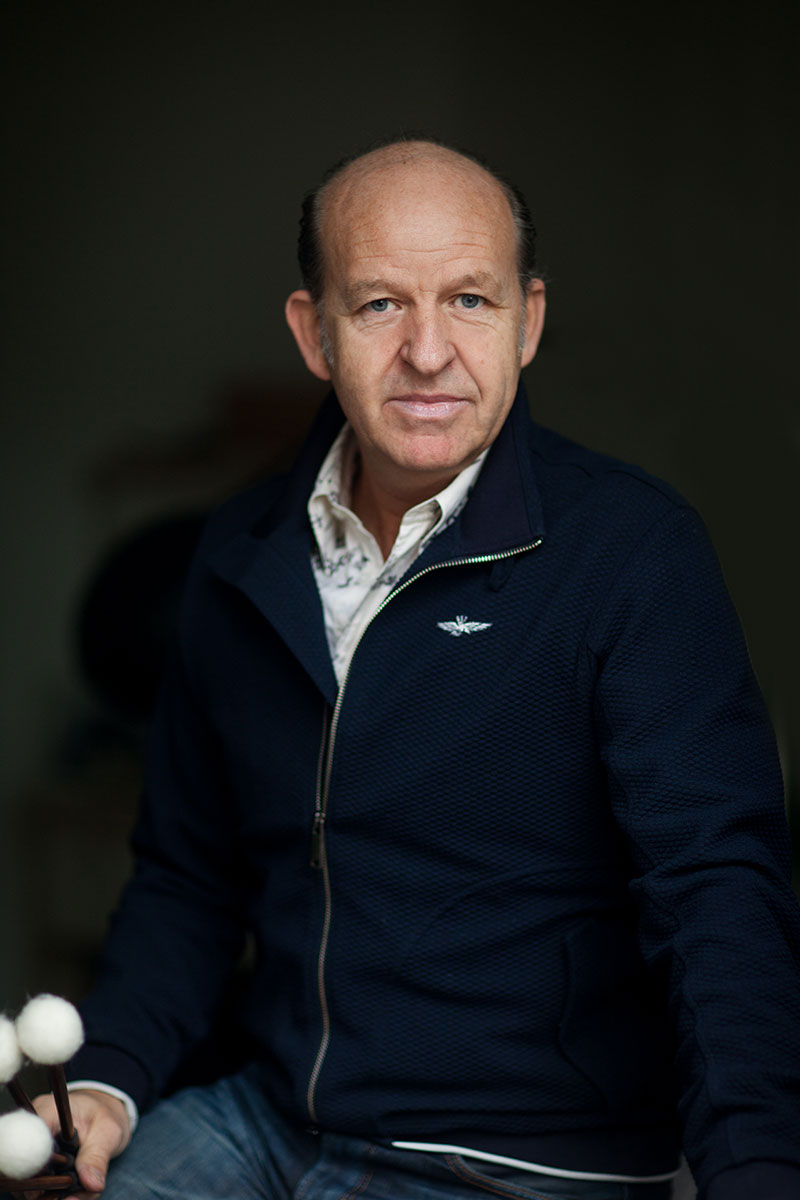 At the age of 5 I started my football career at "Geertruidse Boys" in my hometown of Sint Geertruid. After 5 weeks of hard training, my school friends and I had our first official game and… we lost 13-1! I was very upset, even angry, that I couldn't change the result myself, which was impossible, of course. But back then, I didn't understand the meaning of "team-sport."
The next day our hometown marching band, including the drum band at the beginning of the parade, passed by our house. I was so overwhelmed by the sound of the woodblocks, I immediately asked my dad if I could join this 'band.' Of course he said yes, although I had to give up my membership at the football club, which was no problem for me after that disastrous defeat the day before.
I started playing the snare drum and my parents also bought me an old drum set our town's church choir no longer used—an old Sonor-set, which I still have. After two years playing drums at home and snare in the local wind(marching?) band, my parents and let me go to a nearby music academy in Belgium where I was lucky enough to begin taking lessons with one of my early mentors, Jo Zinzen.
Jo prepared me for applying to the Conservatory Maastricht where I was accepted and luckily found professors, including Pieter Jansen and the recently deceased Werner Otten, who filled my musical life in a very open and enriching way. During this period in Maastricht I enjoyed playing in the former ECYO and the Schleswig Holstein Music Festival. At these festival orchestras I was coached by Peter Sadlo, who became one of my closest personal friends, and also Rainer Seegers, one of my biggest early inspirations.
In my fourth year of my study, I won my first audition for a real timpany job in the Noord Nederlands Orkest in Groningen as successor to the legendary Marinus Komst. Since there was no prospect of finding a more demanding timpany position in the Netherlands, after two years I decided to give it a shot in Germany. There, after many many auditions, I won my first job at the Stadttheater Bielefeld. Although it was a lateral step in terms of career, it was, on other hand, my ticket into Germany. For the next five years, I practiced in between rehearsals, operas, and concerts, and progressed further than I thought this step would have brought me at first. These years in Bielefeld were extremely important in my learning process as a professional musician, and introduced me to the world of opera, a world I still dearly love.
Nevertheless, I gave myself a limit of five years to find the next step in advancing my career, and nearly at that self-imposed deadline, I won the timpany position at the Beethovenhalle Orchestra in Bonn. However at the same time, I was also offered and decided to accept the position at the RSB Berlin, but unforeseen circumstances soon made it clear I should seek out auditions to move on after my one year contract expired. So I auditioned for the Bayerische Staatsoper München and won the position of principal timpanist in Maestro Zubin Mehta's orchestra. These were unforgettably exciting years in which my operatic repertoire expanded enormously, which I still benefit from today. Also, I learned a way of working that made me a more flexible and somehow a 'faster' musician. The enormous workload didn't make me happy at the opera though. I felt like working in a 'music factory' and was somewhat relieved when I got a call from the BRSO, asking if I would be interested in becoming their new timpanist, together with Stefan Reuter.
Since this call in 2007, I have been a member of this great orchestra. As a freelance musician I have also played for several years in the Mahler Chamber Orchestra where I met Claudio Abbado. He asked me to participate in his re-launched "Lucerne Festival Orchestra," where I still play as a founding member. Other great orchestras I have had the privilege to play with include the Chicago Symphony Orchestra, Chamber Orchestra of Europe, Teatro della Scala Milano, Berlin Philharmonic Orchestra and many others. I am very grateful that I have had, and still have, the opportunity to make music in this way and on such a high level, and hope this will continue for many more years to come.

Once again, I am on the verge of another big adventure, this time with Bart Jansen and Picarde.
After so much work, testing, searching for the impossible, and a few 'winery meetings' , we are very proud to announce the new Raymond Curfs Timpani Sticks Series.

I want to help all timpanists make their playing even richer and more exciting, accumulating my years of experience and knowledge of sound and colour into these beautiful, high-quality handcrafted sticks.

I am so proud to share this product with everyone and greateful to share in so many wonderful musical moments played with the new Raymond Curfs Series by Picarde.
Raymond Curfs Series
Category 1
Predominantly rhythmically clear sounding sticks.
Category 2
"Bridging sticks" between Category 1 and 3, Priori "Rollminded"
sticks with secondary rhythmical identity.
CATEGORY 3
The "Rolling Department" where priority is put on a warm and round sound, but with
the possibility to punch if needed.
CATEGORY 4
The Heavy-extrem powerful Department, priority put on single strokes and less on
smoothly playing rolls.